At SPEAR, we are conscious of the anxiety our clients and those who have moved on to independent accommodation might be feeling due to the ongoing cost of living crisis. In preparation for the impact of the cost of living crisis, our teams, and more particularly our Tenancy and Resettlement team, are working hard to ensure our clients receive the support they need, with advice on how to cope with the cost of rent, food, and energy.
Interview with Elena Brooks, Operations Manager
How might the cost-of-living crisis impact people experiencing or at risk of homelessness?
Ultimately this could end in homelessness again if the person is accommodated.
Our clients are not in a financial position where they can afford the rise in the cost of living and will need support in all areas in the next few years.
For those who are rough sleeping, it could mean that they refuse offers of accommodation due to knowing that there is this possibility of not being able to afford it, resulting in longer periods on the streets.
What does it mean to SPEAR's clients? Is the crisis already impacting them?
For those who are living independently, but with support, and paying their own energy bills it will have a huge impact.
Most clients claim benefits and do not have enough income to pay the demands of the rising cost of living. Clients will likely find themselves using food banks again and tapping into funds from charities or the local authority in order to get by.
This will likely have a knock-on effect on their emotional wellbeing and their pathway of moving forward with trying to break the cycle of dependability, and of course, the prospect of getting in debt, which may have pushed them into homelessness in the first instance. The revolving door of homelessness is a real possibility for some.
What is the Resettlement and Tenancy Support doing to support their clients during the crisis?
The Resettlement Team is supporting clients in preparation for the crisis, by working with them to maximise their benefits/claim the right benefits, help with finding work, ensure they are on the correct energy tariffs, and informing them of available grants and funds they can apply for, discounts and offers.
We are also directing clients to their local authorities where applicable and supporting them to call their energy supplier to set up payment plans.
We will be supporting clients with budgeting plans and researching the best value for money when it comes to food shopping, energy suppliers, and day centres where they can access food banks. On a more practical level, we are advising when is the cheapest time in the day/ evening to use their washing machines or when to compromise on using heating.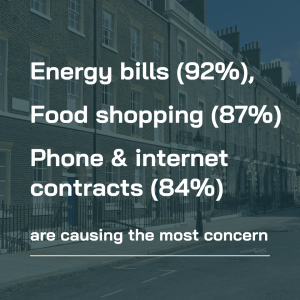 As rental prices are on the rise, do you think your clients might take longer to move on to independent accommodation? What would that entail for your operation?
We do expect that the rise in rental, particularly private rented properties, means it will take longer for clients to move on to independent accommodation.
This may be because the benefit cap only allows for a limited amount to be claimed to cover rent costs. If private landlords raise the cost of rent above the benefit cap, clients will have to find the money to cover the shortfall, which will not be possible for those claiming benefits.
It will also impact clients who have got back into work. Working sometimes means that an individual is not eligible for full housing benefits due to their income, so the impact on the number of people who will not get back into employment due to fear of it 'costing more' will likely rise.
Operationally, this could mean that we have more people staying in shared accommodation such as HMOs (Houses of multiple occupancies) as it's more affordable but of course, these are not long-term housing solutions and come with their own limitations such as quantity.
What advice would you give someone experiencing or at risk of homelessness?
Their first stop should be to inform their local authority and to fill in a homeless application, which determines your level of priority.
If you are rough sleeping, contact 
https://www.streetlink.london/
 where you will be connected to local services and charities such as SPEAR that will support you.