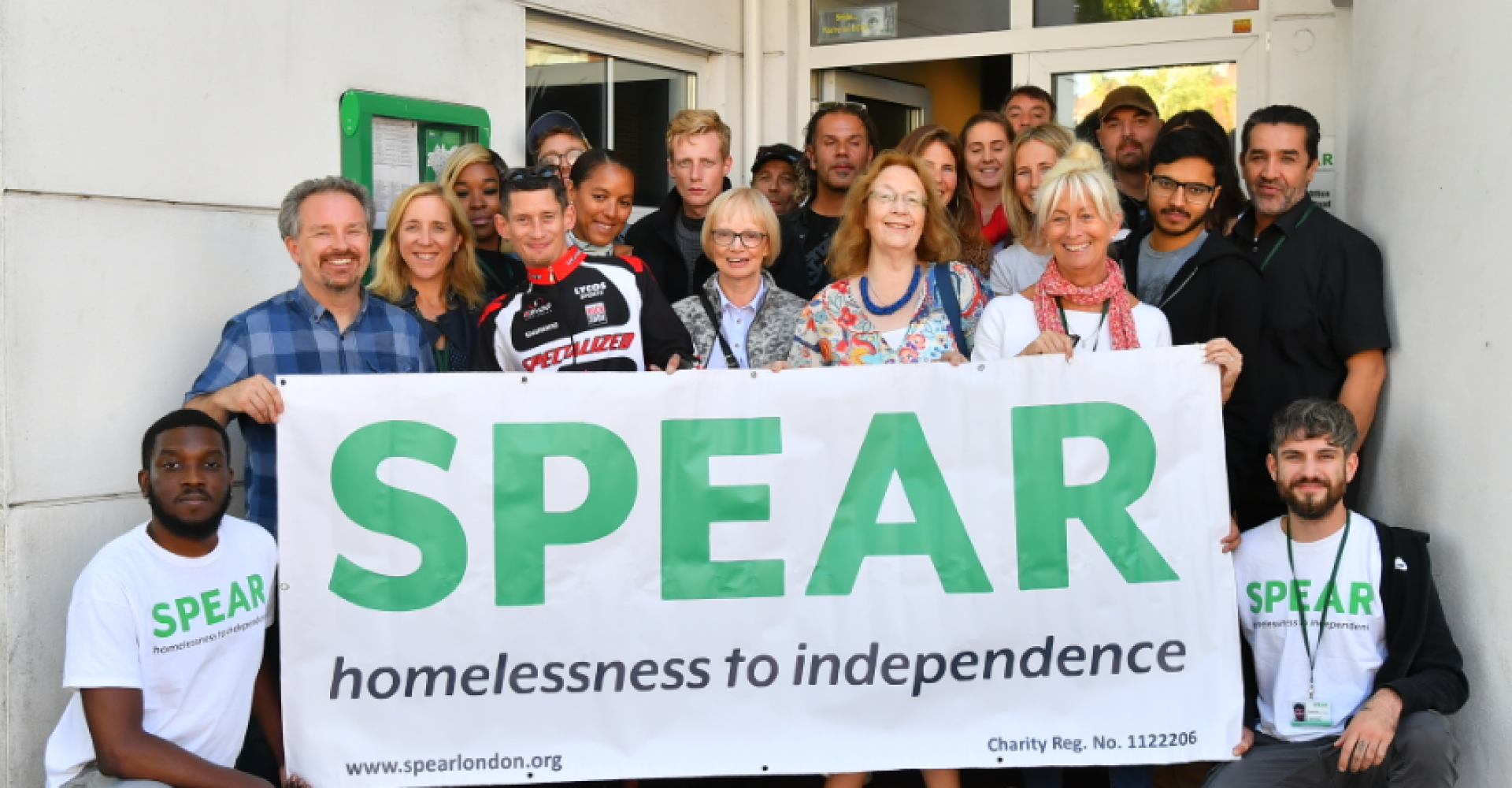 SPEAR prides itself on the work it does and the amazing and motivated staff team it employs. If you are thinking about applying for a role with SPEAR, this page should supply you with all the information you need to decide whether SPEAR is the place for you.
1. The ability to change the lives of some of the most marginalised people in our society
SPEAR strives to change for the better the lives of those who experience homelessness, or those at risk of homelessness. We provide services with the simple aim that every single person we work with finds and keeps a home. Working for SPEAR gives you the tools to truly change the lives of the people we work with – and to see the results of your input.
SPEAR has an excellent reputation for providing services that truly make a difference to some of the most marginalised people in our society. You will be working alongside experienced professionals who understand the inputs needed to bring about such positive change. We attempt to unlock the potential in everyone we work with and will encourage you to do so too.
We were awarded the "Best Charity" Commended Award in 2019's Richmond Business Awards.
In 2019, St George Developments won their category for the 'Best Business Commitment to Fundraising' through their partnership with SPEAR and Honeypot Charity. SPEAR was also in the shortlist for 'Most Impactful Charity Partnership'. Both these awards were given by The Berkeley Foundation.
SPEAR achieved an award from St Mary's University for 'Outstanding Placement Provider' for offering multiple, high quality volunteer placements at SPEAR for students – the majority of these were within the fundraising team. Read the inspiring review written by St Mary's here.
Not only is SPEAR commended as an organisation, the people we work with are also recognised as champions. Our volunteer won a Community Award from the Mayor of Kingston for their contribution of over 474 hours during the pandemic, and a young client received the Inspiring Hope Young Person Award from UK Youth for lifting fellow hostel residents' sprits during the pandemic. Read more about their achievements here. Our clothing volunteers who fit clients into new clothes were nominated for the Team London Awards. Acara – a property management company who volunteer their professional skills fixing things and doing odd jobs in our offices and hostels won the 'Richmond Community Heroes' Award. Watch their interview film here.  
SPEAR's quality of work is highlighted by our gaining of the ISO 9001 Quality Assurance Qualification and we are constantly working towards a high quality standard of work.
Watch this video to get a feel of how we engage with the community to achieve the common goal of ending homelessness.
3. SPEAR's commitment to staff
SPEAR is committed to developing the skills and abilities of the people we work with, illustrated by the implementation of our Learning and Development Policy. All new staff undertake a range of training and all staff are given on-going and refresher training appropriate to their roles. Further training and personal development ideas are regularly discussed in supervision sessions and we encourage staff to undertake formal or accredited training.
We are a London Living Wage Employer and our proud to say that all our employees are paid this wage or higher.
SPEAR offers competitive salaries that are comparable – and often better – than other agencies in our sector. All staff start with 26 days holiday per year and this rises up to 31 with length of service. We offer maternity and paternity leave (as well as other leave) beyond the statutory minimum, to ensure that you maintain a good work-life balance. Staff will be automatically enrolled into a pension scheme after three months of service and offered a wide range of staff benefits. These include allowances for eye tests, allowances for work-related travel, cycle to work schemes and staff wellbeing sessions. All staff have access to our free Employee Assistance Programme which offers counselling and advice around a number of issues, as well as the opportunity for flexible working hours to fit around caring responsibilities and your circumstances.
We pride ourselves on developing a culture in which staff regularly communicate across the organisation. We offer a staff induction programme. Some of our staff have been at SPEAR for over ten years. Working for SPEAR you truly are part of the team. Meet Joy, our Senior Fundraiser, and Catherine who is a Tenancy Support Worker.
Volunteers form a vital part of many of our services; from covering the reception desks at our Hostel, to working with our Outreach team to locate rough sleepers, to sharing skills by providing mentoring support to clients, and raising funds. Meet Caroline who has been helping SPEAR as a supporter and volunteer since 2018.
6. Our Client-led Approach
To improve our work and ensure we are providing the best support, we constantly listen to our clients and engage with them. All SPEAR clients from across our different services are invited to be part of the Client Service Involvement Group. They are involved in many areas such as giving feedback on SPEAR's services, volunteering and assisting at events and other activities.
As part of any recruitment process, SPEAR collects and processes personal data relating to job applicants. We are committed to being transparent about how we collect and use that data and to meeting our data protection obligations. For more information on what data we collect and how we use, please view our Job Applicant Privacy Notice.
Tenancy Sustainment Team Leader
The purpose of the Tenancy Sustainment Team Leader is to coordinate a comprehensive service to the accommodation-based schemes in multiple boroughs that are provided to former homeless clients with whom we work.
In this crucial role, your focus will be on the service delivery of SPEAR's Housing First model. You will work with staff and management teams to deliver this innovative model of housing society's most vulnerable people; you will help us drive forward a collective vision of inclusion and participation across the organisation.
Homeless Health Link Worker x2
We are looking for two Homeless Health Link Workers to join our teams in Wandsworth & Sutton. These roles will be responsible for the delivery of high-quality services offered by the Homeless Health Link Programme focusing on the engagement of homeless clients, including rough sleepers, in a range of primary care, mental health, and substance misuse services.