Trusts and foundations provide essential funding to support our services for some of the most vulnerable people in the community.
Whether it's a grant for a specific project or one that contributes to our daily running costs, every penny we receive from a charitable organisation enables us to continue providing our established services and develop new ones to tackle the problems caused by homelessness.
We believe strongly in nurturing our relationships with trusts, developing positive relationships that will benefit us both. We would keep you up to date with all of our work, giving you information on what we have achieved through your donation.
We are enormously grateful for the support of the following charities, trusts, partner agencies, corporate supporters and funders, and the many others not named below. Without them, we would not be able to support so many clients to make changes in their lives.
National Lottery Community Fund Grant

New funding to help homeless people in Richmond and Kingston
Homelessness charity SPEAR has been awarded a grant from National Lottery Community Fund to help homeless people to improve their health. The grant will fund the charity's Homeless Health Link Service in Richmond and Kingston for two years. The service will help around 150 homeless people by registering them with services and advocating for them at appointments. It will also work alongside GP practices, hospitals and wider social services to help homeless people get the best possible care.
The service was introduced after the charity saw rising numbers of homeless people who were not getting adequate support for their health issues. Since then, it has helped over 250 homeless people to better manage their mental and physical health. The charity has also seen a dramatic reduction in the number of homeless people using emergency health services, like A+E and ambulances.
The charity's Chief Executive, Stuart Nevill, said:
Please read the National Lottery Community Fund Press Release for more details.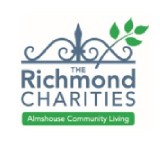 SPEAR are grateful for the support of Richmond Charities who provide individual grants of up to £250 to SPEAR clients living in Richmond. These grants pay for crucial items, such as furniture for a new house, clothes for a job interview, vocational training, specialist medical equipment or debt relief. The charity's support is life changing for people experiencing homelessness in Richmond.
Read more about Richmond Charities and their Welfare Grants.