Krzysztof was found sleeping rough by our Richmond Outreach team in 2021.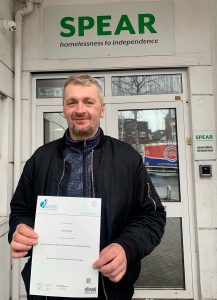 He experienced street homelessness due to a relationship breakdown as he suffered from depression and alcoholism. Krzysztof suffered chronic depression since childhood but his symptoms became unbearable around 2014. This led him to drink in order to cope with his mental health. In 2019, Krzysztof lost his father which affected him even more.
A few months after he had settled into one of SPEAR's temporary accommodation, Krzysztof's key worker supported him into rehab.
Since then, Krzysztof has not touched alcohol and engages regularly with alcoholic anonymous. He now volunteers his time to help others recover from alcoholism at a Polish group.
In July 2021, Krzysztof, as part of the Housing First scheme, signed into a ten-year tenancy for a flat of his own.
A few months later, in 2022, Krzysztof was supported to pursue his interests including an English for Speakers of Other Languages course in an adult community college which he has graduated from.
Krzysztof's key worker, Francesca, said:
" It is clear that Krzysztof is a beacon of hope for others suffering with issues of addiction and poor mental health and I believe he will be able to help so many who are finding it difficult to manage their alcoholism. Krzysztof is a real credit to SPEAR's legacy and the Housing First model of support and I look forward to seeing his bright and happy future."
He is now a self-employed delivery driver and hopes to enroll in an accounting and finance course.
______________________________________________
Housing First uses independent, stable housing as a platform to enable individuals experiencing multiple and complex disadvantages to begin recovery and move away from homelessness.'   Find out more here.