The cost of living is at the front of everyone's mind, and our clients are no different. 
For clients with a history of trauma this is a time of huge mental strain and anxiety. Many clients now in accommodation have experience of losing their homes in the past, and with the ever rising costs many are anxious that this might happen again.
Here at SPEAR we are doing all we can to provide support. Find out more.
"THE COST OF LIVING IS A HUGE MENTAL TRIGGER AND HUGE MENTAL STRAIN. NOT JUST FOR A
FEW CLIENTS, THIS IS ACROSS THE BOARD."
"ASKING FOR HELP WAS DIFFICULT, BUT BEING HOMELESS WAS SUCH A SHOCK THAT I HAD NO
CHOICE. WITHOUT SPEAR, I CANNOT IMAGINE WHERE I WOULD BE NOW"
With the cost of living crisis disproportionately affecting the poorest in our communities, at SPEAR we are incredibly grateful for the donations we receive. At a time we know is becoming increasingly difficult for us all, any amount that you can afford to give is very much appreciated and will make a real difference to the lives of those we support. people accessed our services people supported into accommodation clients further developed their skills supported by our Health Link Service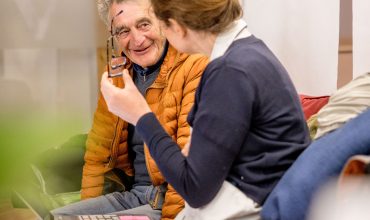 Our Health Link work last Winter
Winter is a particularly challenging time for people sleeping rough, with cold temperatures causing ill-health and exacerbating existing health conditions. We received funding from the South West London Integrated Care System to deliver Health and Wellbeing Days to people experiencing homelessness.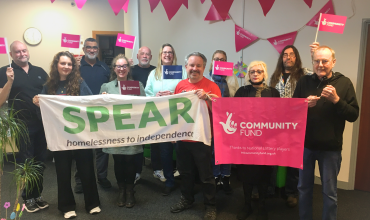 SPEAR's Homeless Health Link Service celebrates new funding from the National Lottery Community Fund
This month, we are delighted to celebrate the start of a new three-year funding award from the National Lottery Community Fund towards our Homeless Health Link Service.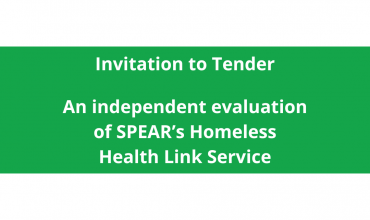 SPEAR's Homeless Health Link Service Evaluation Tender
This invitation to tender invites proposals to evaluate SPEAR's Homeless Health Link service.
Financial donations are vital for our charity work. 
No matter how big or small, we really appreciate every single donation that you can give.
SPEAR would like to thank the generous funding for our services from: