Our Springboard project engages with young people aged 16 to 25 who have experienced homelessness.
Through one-to-one sessions with a key worker as well as weekly group sessions, the Springboard project offers a kind and safe environment for young people to share their experiences and challenges with others who have also faced adversity.
Often in temporary accommodation or sofa surfing, this project also aims to support young people to interact with others of their own age who have faced similar issues.
Springboard is open to 32 people every year to attend one-to-one support sessions and engage in activities that are meaningful to them, and include: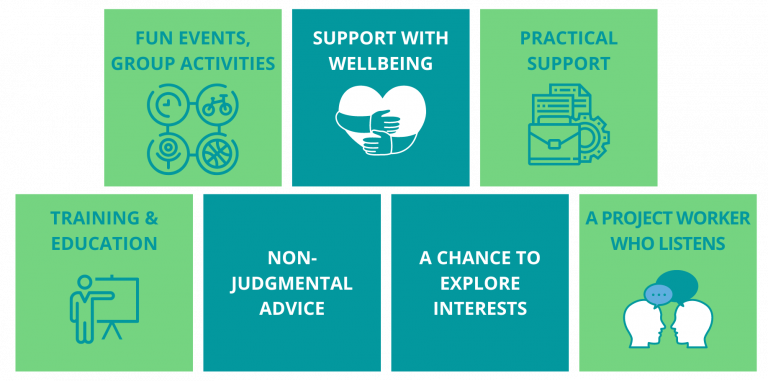 After suppressing my creative side, I was reintroduced to my passion for art by joining an art club run at my hostel. I was let free to express myself and at every step of the way I was encouraged and supported, whereas in school I was too afraid to take Art GCSE as I thought I wasn't as good enough.
Springboard helps our mental health. It gets us out of bed and makes us feel part of a community.
You know when you come into the session it's a relaxing place, and non-judgmental, and there's an open table for discussion of anything. It's a really nice way to unwind. I'd done art at college but hadn't done it in a while and it's nice getting back into it. Rosie finds out what we're good at and pushes us to do our best at it and it's made me think about going back to college next year and finishing my course.
I feel this is an inspiring project. Working with SPEAR is an amazing opportunity. Springboard is a great project for young people to come to a nice environment and explore opportunities.
I really enjoyed the university taster session. It opened my mind to things I hadn't really considered before, which I think is pretty cool. I really enjoyed the theatre, I like theatre in general but haven't gotten to go as much as I'd like. I feel like now people that wouldn't necessarily have hung out before are hanging out more, like when we get back from an activity it gives us something to talk about.
Are you 16 to 25, have experienced homelessness, including hidden homelessness such as sofa surfing, and are in need of guidance and support?
If you're in Richmond, Kingston, Sutton, or Merton join the Springboard project!
Simply contact us here.